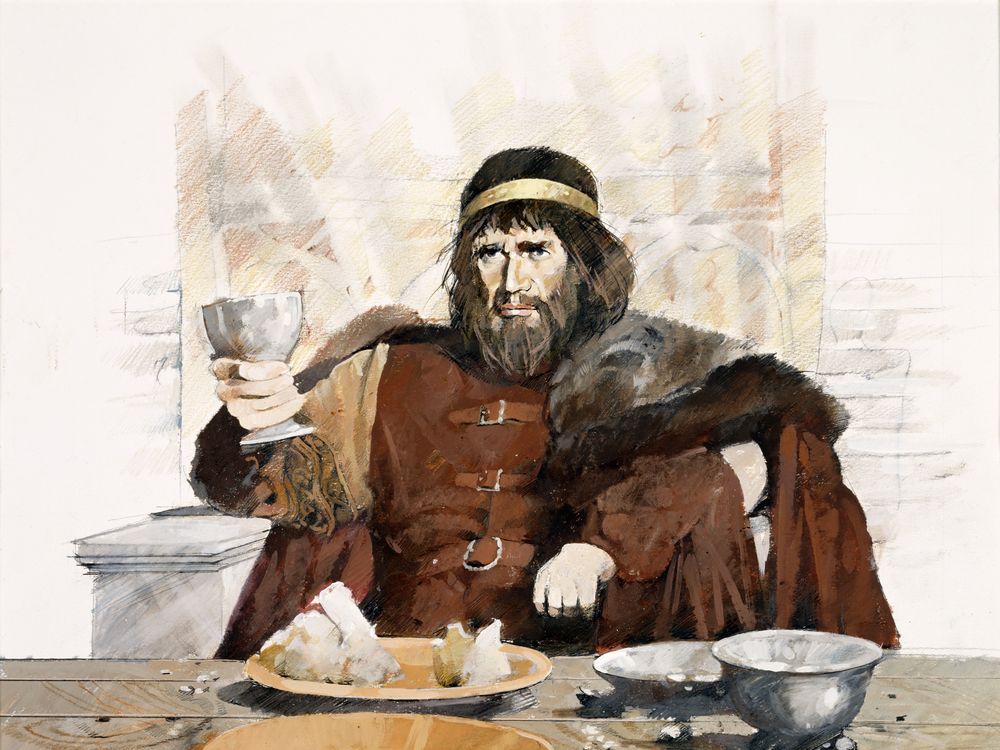 A brand new evaluation of greater than 2,000 skeletons buried in England between the fifth and eleventh centuries suggests the nation's early medieval rulers weren't precisely the carnivorous gluttons of common lore.
As Rhys Blakely writes for the London Times, a pair of papers revealed within the journal Anglo-Saxon England argue that pre-Viking British lords primarily subsisted on a cereal- and vegetable-based weight-reduction plan, with massive, meat-heavy feasts reserved for particular events when "the the Aristocracy rubbed shoulders with the peasantry." The findings point out that early medieval England (additionally recognized by the ahistorical time period "Anglo-Saxon") was much less socially stratified than beforehand thought.
The favored picture of early medieval rulers tearing by legs of mutton has evidentiary backing: Per a statement, 11 surviving meals lists from the period describe feasts' contents as modest quantities of bread; monumental parts of beef, mutton, salmon, eel and poultry; and a few cheese, honey and ale. Based mostly on a listing dated to the reign of Ine of Wessex (round 688 to 726), every visitor would have eaten roughly 4,140 energy.
The researchers don't dispute the existence of such calorie-rich, meat-laden meals. However they view these feasts because the exception, not the norm.
"Historians usually assume that medieval feasts had been completely for elites," says co-author Tom Lambert, a historian on the College of Cambridge, within the assertion. "However these meals lists present that even in case you permit for big appetites, 300 or extra folks will need to have attended. That signifies that numerous strange farmers will need to have been there, and this has huge political implications."

If early medieval rulers consumed copious quantities of meat regularly, that will probably be mirrored of their stays. However an isotopic analysis of two,023 skeletons from a wide range of socioeconomic backgrounds "discovered no proof of individuals consuming something like this a lot animal protein," says co-author Sam Leggett, a bioarchaeologist on the College of Edinburgh, within the assertion. "In the event that they had been, we might discover isotopic proof of extra protein and indicators of ailments like gout from the bones. However we're simply not discovering that."
The students don't cite any direct documentary proof supporting the declare that rulers caught to a closely vegetarian weight-reduction plan on non-feast days. The surviving meals lists make few to no point out of greens, however as Zaron Burnett III notes for Mel magazine, this doesn't imply they weren't served, however fairly that they had been so strange they weren't thought of price mentioning.
"We should always think about a variety of individuals livening up bread with small portions of meat and cheese, or consuming pottages of leeks and complete grains with slightly meat thrown in," says Leggett within the assertion.
One of the 2 newly revealed papers facilities on the Outdated English phrase feorm, or food-rent. In keeping with Samuel Webb of the Independent, the time period has usually been outlined as a tax paid by peasants within the type of crops and livestock that then served because the royal family's important supply of meals. Lambert, nonetheless, drew on a spread of sources, together with aristocratic wills, to supply another interpretation of feorm as a single feast thrown by a ruler's topics.
"We're taking a look at kings touring to large barbecues hosted by free peasants, individuals who owned their very own farms and generally slaves to work on them," says Lambert within the assertion. "You can evaluate it to a contemporary presidential marketing campaign dinner within the [United States]. This was a vital type of political engagement."
Talking with Nick McDermott of the Sun, Lambert describes the findings as stunning.
"The popular view has all the time been of a giant social divide between the elites and the peasants," he says. "However their weight-reduction plan was the identical. It reveals on regular days they had been principally consuming bread and vegetable stew. And from time to time they'd come collectively for a pleasant unfold or a barbecue. So [it was] an early type of flexitarianism."
https://www.smithsonianmag.com/smart-news/new-research-suggests-medieval-rulers-had-a-veggie-based-diet-180979970/